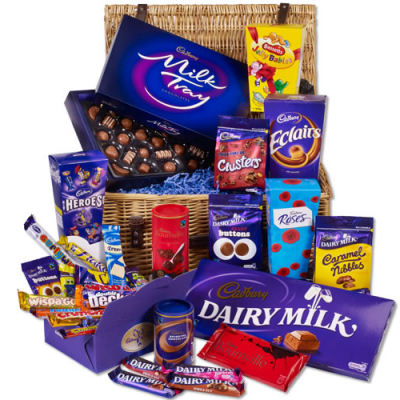 Cadbury Ultimate Chocolate Basket
Highlights...
Compare Hamper Prices
The hamper and economy delivery prices stated above were supplied by each retailer within the last few days, and may have since changed. Some retailers may levy a premium charge on top of their standard delivery cost depending upon the size of the gift hamper. Certain postcodes may incur a further premium delivery charge too. For current hamper and delivery costs click the Buy button above.
About This Hamper
If you love all things Cadbury then this is the hamper for you. It's called the Ultimate  Chocolate Basket for a reason and one reason alone: it's epic! Now we're not Carol Vorderman but we reckon there's over a mammoth four kilograms of tasty treats included in this stunning 20 inch wicker hamper. For us the star of the show has to be the imposing 1KG bar of Dairy Milk which is a great start to any hamper. Then you'll find a double layered box of Milk Tray (one layer is never enough). Dig deeper to find a carton of Roses, Chocolate Eclairs and Jelly Babies. Next you'll discover some bags of chocolate including Giant Buttons, Clusters and Caramel Nibbles. Now, to wash it all down there's a drum of delicious Bournville Fairtrade Cocoa (which can be used to bake tasty chocolate cakes or to make a delicious cup of hot cocoa) and a drum of Cadbury Drinking Chooclate to choose from. It doesn't end there as the final cherry on the cake is a Cadbury Treasure box of favourites including familiar bars of chocolate such as Dairy Milk, Crunchie, Time Out, Flake, Wispa, Double Decker, Fudge, Chomp and a couple of Freddo's.

All in all, this is a mammoth hamper and is perfect for any chocolate lover. There's a huge variety within this hamper so it's great to share amongst friends and family, keeping your favourites all to yourself of course! If you want a hamper gift that is both impressive and appreciated then this is a perfect choice.
The Type of Hamper
This gift is perfect for chocoholics who have a sweet tooth. Chocolate is loved by people of all ages making this a safe gift idea for fussy people!
The Perfect Occasion
Ideal for birthdays Celebrate a special birthday for a special person with a special hamper! These hampers are often filled with a selection of tasty treats and some even come with a birthday cake!
Ideal for Christmas Christmas hampers are arguably the most popular of all hamper categories and this hamper is no exception. It features a selection of festive goodies and treats to be enjoyed along or shared with friends and family!
Ideal for Easter Think of Easter and you might think of chocolate Easter eggs. This type of hamper goes one better by fusing a selection of treats together into a magnificent gift, perfect for friends and family.
Perfect for Father's Day Say thanks to Dad for everything he has done for you in his lifetime with this hamper designed with Dad in mind. Expect it to have plenty of treats that Dad will love on Father's Day.
Perfect for Mother's Day Say thanks to Mum for everything she has done for you in her lifetime with this hamper designed with Mum in mind. Expect it to have plenty of treats that Mum will love on Mother's Day.
The Presentation
This hamper is presented inside a beautiful traditional wicker, seagrass or reed hamper. Not only does this offer a wonderful first impression but once the contents of the hamper have been used then the hamper itself can be reused, perhaps as storage or re-gifted to a friend or family member.