Sorry, we cannot find any Green & Blacks that are in-stock right now at any of our partnered retailers. As hamper availability changes throughout the year, this could be down to a temporary shortage. Please check back soon when we should have added some more Green & Blacks available to buy.
Here's some previous hampers from Green & Blacks to give you an idea of what to expect when they come back in stock.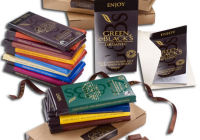 Green & Blacks
The post can be pretty boring these days, can't it? With most correspondence done online, the only things that seem...
From £75.00