£10 Off Chocolate Tasting Club Introductory Selection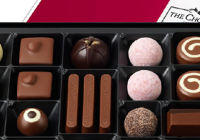 Save a massive £10 on your first introductory box of chocolates from the Chocolate Tasting Club!
As a member of the Chocolate Tasting Club you'll receive a new box of exquisite chocolates each month to try and review. The best scoring chocolates often end up in Hotel Chooclat stores so it's worth submitting your scores as they really do count.
Normally your first box would cost £20.95 but use the discount code below before it expires and your first box will be just £10.95!
Not only that but you'll also receive a free Munch & Nibble box worth £8, containing a selection of chocolate enrobed nibbles!
Choose from six collections to sample – the classic Mixed, All Dark, All Milk, Rare Cocoa (Purist), No Alcohol (Elements) or All Alcohol (Fortified). Each has been crafted to suit a particular type of person with the classic Mixed selection being the most popular as it has something for everyone.
To save £10 simply use discount code SAVECHOC10 when you sign up. The discount will be applied automatically.
This special offer expired on Monday 30th December 2013.
This deal is subject to availability. Exact details of the offer, discounts, voucher codes, prices and availability may have changed since I published this deal, or the offer may have been removed altogether. I have no control over offers from supplier but I aim to remove inaccurate or expired deals as soon as possible. If you notice a deal that has expired, that has changed significantly or perhaps you have found a deal I've not showcased, please get in touch.
This article was saved under
Special Offers
and was written on Monday 2nd September 2013 (11:25 am). It was last modified on Monday 2nd September 2013 (11:33 am). Please note that any offers, stock levels, discount codes or prices may have since changed, expired, or become discontinued since publication.