20% Off £20+ Spend Discount Voucher Code for Thorntons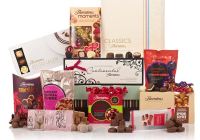 Nobody needs an excuse to buy some tasty chocolate but this great value offer from Thorntons is definitely an incentive. Right now they are offering a massive 20% when you spend £20 or more, including their chocolate hampers!
Thorntons stock a range of chocolate hampers are on sale including this very tasty looking Chocoholic Hamper. It's jam packed full of delicious chocolates including:
Classics Milk, Dark & White Collection 562g
Dessert Gallery 215g
Continental Milk, White, Dark Collection 150g
Praline Melts 200g
Chocolate Smothered Toffee Box 525g
Moments Box 250g
Continental Viennese Bag 105g
Milk Caramel Bag 110g
Toffi-Chocs Pouch 180g
Vanilla Fudge Pouch 180g
Premium Gift Collection 96g
thehampery.co.uk 150w, thehampery.co.uk 300w, thehampery.co.uk 400w, thehampery.co.uk 75w" sizes="(max-width: 600px) 100vw, 600px" />
It was priced at £50 but it has been reduced to just £40. There's no need to have send it to a friend or family member, order one for yourself instead!
To claim your 20% discount simply enter discount voucher code TWPT in the Promotional Code box at the checkout, making sure you've spend £20 or more before delivery.
The supplied terms are below:
20% off (excluding delivery and gift wrapping) until 11.59pm on 23rd September 2013. Customers must add offer code TWPT at the basket page on the website to be eligible for the 20% off. Thorntons cannot be held responsible for not discounting orders where the offer code hasn't been added, or an incorrect code has been submitted. Offer is exclusively available at Thorntons.co.uk and cannot be used in conjunction with any other offer. This offer is not available to corporate customers or in our retail stores. Offer is open to UK residents only. There is no cash equivalent to this offer.
This special offer expired on Monday 23rd September 2013.
This deal is subject to availability. Exact details of the offer, discounts, voucher codes, prices and availability may have changed since I published this deal, or the offer may have been removed altogether. I have no control over offers from supplier but I aim to remove inaccurate or expired deals as soon as possible. If you notice a deal that has expired, that has changed significantly or perhaps you have found a deal I've not showcased, please get in touch.
This article was saved under
Special Offers
and was written on Wednesday 18th September 2013 (1:56 pm). It was last modified on Wednesday 18th September 2013 (2:16 pm). Please note that any offers, stock levels, discount codes or prices may have since changed, expired, or become discontinued since publication.