10% Discount Voucher code for Cadbury Gifts Direct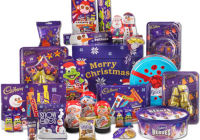 Save an extra 10% on orders with Cadbury Gifts Direct placed online.
This is a great excuse to send someone (or yourself!) a delicious Cadbury chocolate hamper filled with family favourites from Cadbury. Check out the Festive Celebration Hamper which is jam packed with Heroes, Roses, a selection box, treat-size snacks, a hollow festive models, and much more. It's perfect for any Cadbury fan or Cadbury mad family. I'll be dropping hints to Santa now…
To save an extra 10% on your order simply use discount voucher code CGDWEBGAINSX10 when you go through to the checkout.
This special offer expired on Tuesday 31st December 2013.
This deal is subject to availability. Exact details of the offer, discounts, voucher codes, prices and availability may have changed since I published this deal, or the offer may have been removed altogether. I have no control over offers from supplier but I aim to remove inaccurate or expired deals as soon as possible. If you notice a deal that has expired, that has changed significantly or perhaps you have found a deal I've not showcased, please get in touch.
This article was saved under
Special Offers
and was written on Wednesday 13th November 2013 (12:07 pm). Please note that any offers, stock levels, discount codes or prices may have since changed, expired, or become discontinued since publication.