50% off Thorntons Winter Chocolate Collection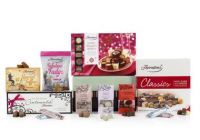 Save a massive £30 on the fabulous Thorntons Winter Chocolate Collection hamper from Thorntons using the discount voucher code below.
This hamper is usually priced at £60 but from 18th November 2013 to 1st December 2013 (or while stocks last) you can get it for half price! The hamper is typically packed with the following:
Continental Milk, White & Dark Collection (300g)
Classics Milk, White & Dark Collection (587g)
Winter Chocolate Dessert Gallery (390g)
Original Special Toffee Box (525g)
Vanilla Fudge Bag (285g)
Continental Viennese Bag (105g)
Continental Vanille Truffle Bag (103g)
Continental Chocolat Riche Bag (93g)
2 x Continental Viennese Bar
2 x Continental Alpini Bar
There's something for everyone here. This would make a great Christmas present for friends or relatives. Of course it would make a tasty treat for yourself too, perfect for cuddling up on the sofa on a cold Winter's night.
To claim your £30 discount on this hamper add the Thorntons Winter Chocolate Collection hamper to your shopping basket and then use discount voucher code WNTR at the checkout.
A few terms apply, namely the following:
50% off Thorntons Winter Chocolate Collection with offer code WNTR until 11.59pm on 1st December 2013. Customers must add offer code WNTR at the basket page on the website to be eligible for the 50% off. Thorntons cannot be held responsible for not discounting orders where the offer code hasn't been added, or an incorrect code has been submitted. Offer is exclusively available at Thorntons.co.uk and cannot be used in conjunction with any other offer. This offer is not available to corporate customers or in our retail stores. Offer is open to UK residents only. There is no cash equivalent to this offer. Offer is available while stocks last.
This special offer expired on Sunday 1st December 2013.
This deal is subject to availability. Exact details of the offer, discounts, voucher codes, prices and availability may have changed since I published this deal, or the offer may have been removed altogether. I have no control over offers from supplier but I aim to remove inaccurate or expired deals as soon as possible. If you notice a deal that has expired, that has changed significantly or perhaps you have found a deal I've not showcased, please get in touch.
This article was saved under
Special Offers
and was written on Monday 18th November 2013 (9:02 am). It was last modified on Friday 15th November 2013 (5:21 pm). Please note that any offers, stock levels, discount codes or prices may have since changed, expired, or become discontinued since publication.