10% Discount Code for Christmas Hampers at Hampergifts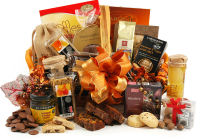 If you are looking at ordering a Christmas hamper this year then check out the range of gifts available at Hampergifts as right now you can save an extra 10% using the code below!
Right now there are 27 different hampers to choose from at a range of prices to suit all pockets. Whether you are after something small and discreet or something large and flamboyant you'll find it here. My favourite is the Christmas Joy hamper which seems to have a bit of everything you'd expect to find at Christmas.
To claim your 10% discount on Christmas hampers (excluding delivery) just use discount voucher code CHRISTMAS10 at the checkout.
This special offer expired on Monday 16th December 2013.
This deal is subject to availability. Exact details of the offer, discounts, voucher codes, prices and availability may have changed since I published this deal, or the offer may have been removed altogether. I have no control over offers from supplier but I aim to remove inaccurate or expired deals as soon as possible. If you notice a deal that has expired, that has changed significantly or perhaps you have found a deal I've not showcased, please get in touch.
This article was saved under
Special Offers
and was written on Tuesday 3rd December 2013 (2:08 pm). Please note that any offers, stock levels, discount codes or prices may have since changed, expired, or become discontinued since publication.