15% Discount Voucher Code For Waitrose Wine, Flowers and Gifts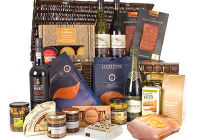 Waitrose Wine, Flowers and Gifts have a gorgeous range of seasonal hampers this Christmas and right now they are offering an extra 15% discount using the voucher code below. Furthermore right now there is also free delivery included too!
Choose from a wide range of hamper styles and contents. My favourite is the lavish Ultimate Refresher Hamper which is crammed full of fresh produce and luxurious store cupboard items.
To get an extra 15% off the price just use discount voucher code HAMPERS15 at the checkout.
This special offer expired on Friday 20th December 2013.
This deal is subject to availability. Exact details of the offer, discounts, voucher codes, prices and availability may have changed since I published this deal, or the offer may have been removed altogether. I have no control over offers from supplier but I aim to remove inaccurate or expired deals as soon as possible. If you notice a deal that has expired, that has changed significantly or perhaps you have found a deal I've not showcased, please get in touch.
This article was saved under
Special Offers
and was written on Tuesday 3rd December 2013 (2:16 pm). Please note that any offers, stock levels, discount codes or prices may have since changed, expired, or become discontinued since publication.