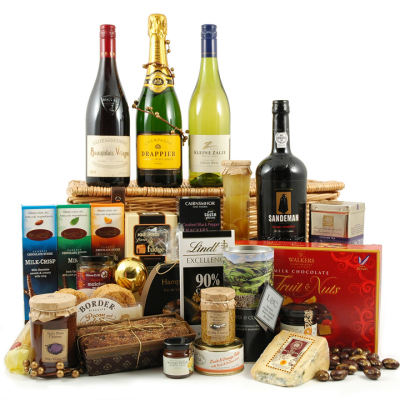 Christmas Splendour
Highlights...
Compare Hamper Prices
The hamper and economy delivery prices stated above were supplied by each retailer within the last few days, and may have since changed. Some retailers may levy a premium charge on top of their standard delivery cost depending upon the size of the gift hamper. Certain postcodes may incur a further premium delivery charge too. For current hamper and delivery costs click the Buy button above.
About This Hamper
One well chosen, delicately flavoured, hand made or organically grown gift is a nice touch at Christmas. Two is special. Three is exceptional. So when it comes to the Christmas Splendour hamper from Hamper Gifts, and the twenty-five different treats included inside it, you will hardly be able to believe your eyes. Or your nose. Or your taste buds. And neither will the lucky recipient.

You won't be able to wrap this gift up neatly and place it carefully under the tree, hidden with all the other presents. It's too full of the most exquisite, award winning, exclusive goodies for that. It seems that this traditional wicker picnic basket hamper with its strong leather straps is determined to make an entrance of its own.

Whether you save this giant until the end of the evening, or delight your friends and loved ones first thing on Christmas morning, the result will be the same; utterly astounded, completely speechless, whoever receives the Christmas Splendour hamper from you will only want to open it to see what's inside.

They're in for a treat.

Award winning South African Chenin Blanc, spicy plum chutney, and crushed black pepper crackers are only the beginning. With oodles of delights ranging from dark chocolate coated marzipan loaf to a creamy wedge of Stilton, they can be forgiven for believing you've given them a bottomless picnic basket for Christmas!

Splendid.
The Type of Hamper
This hamper is likely to feature a bottle or two of alcohol or may be based entirely around a type of liquor. These types of hamper are perfect for a wide range of people from those who like the occasional tipple through to those who know their hops or grapes.
Feel festive with this wintery feel hamper featuring a collection of hearty foods and perhaps some warming tipples. Ideal for Christmas or to celebrate an event in Autumn or Winter festive hampers are lavish and are an indulgent treat.
When you think hampers you might think of a grand wicker hamper full of treats and tipples you wouldn't buy normally from day-to-day. This hamper offers that very experience, with a range of foods and treats perfect for a celebration.
The Perfect Occasion
Ideal for Christmas Christmas hampers are arguably the most popular of all hamper categories and this hamper is no exception. It features a selection of festive goodies and treats to be enjoyed along or shared with friends and family!
The Presentation
This hamper is presented inside a beautiful traditional wicker, seagrass or reed hamper. Not only does this offer a wonderful first impression but once the contents of the hamper have been used then the hamper itself can be reused, perhaps as storage or re-gifted to a friend or family member.