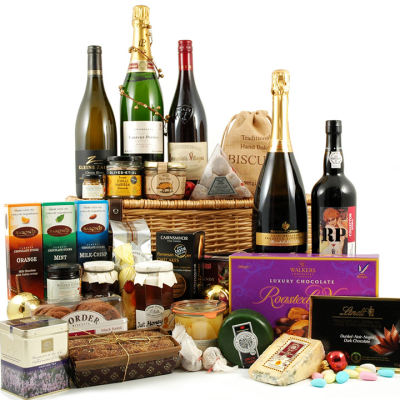 Majestic Hamper
Highlights...
Compare Hamper Prices
The hamper and economy delivery prices stated above were supplied by each retailer within the last few days, and may have since changed. Some retailers may levy a premium charge on top of their standard delivery cost depending upon the size of the gift hamper. Certain postcodes may incur a further premium delivery charge too. For current hamper and delivery costs click the Buy button above.
About This Hamper
Majestic – a word that conjures up images of kings and queens, stately homes, golden carriages, and fairy tale stories. Truly special. Definitely unique. Majestic is the kind of word that brings magic into the world and leaves it there, glittering.

Majestic means splendour. It means magnificent.

Which must be why Hamper Gifts decided to call their most luxurious and beautiful gift box the Majestic Hamper.

The names certainly suits it. The Majestic Hamper is an enormous wicker basket with a lid and leather straps and handles, and it is literally bursting with the best, the most high quality, the most delectable and incredible produce that can be found. Many of the items within this gift hamper are award winners (the Cottage Delight Clear Honey, for example, or the Cropwell Bishop Finest Blue Stilton Wedge, or the Ramos Pinto Collector Ruby Reserve Port, and many more besides), and the remaining contents are stunningly good as well (H.R. Higgins After Dinner Blend Coffee, The Wooden Spoon Wholegrain Mustard & Spitfire Ale, and Borders Black Forest Chocolate & Cherry Cookies, to name just three!).

There is nothing that could be added to the Majestic Hamper from Hamper Gifts to make it any better than it already is. Except, of course, your loved ones name on the gift label…
The Type of Hamper
This hamper is likely to feature a bottle or two of alcohol or may be based entirely around a type of liquor. These types of hamper are perfect for a wide range of people from those who like the occasional tipple through to those who know their hops or grapes.
When you think hampers you might think of a grand wicker hamper full of treats and tipples you wouldn't buy normally from day-to-day. This hamper offers that very experience, with a range of foods and treats perfect for a celebration.
The Perfect Occasion
Ideal for birthdays Celebrate a special birthday for a special person with a special hamper! These hampers are often filled with a selection of tasty treats and some even come with a birthday cake!
Ideal for Christmas Christmas hampers are arguably the most popular of all hamper categories and this hamper is no exception. It features a selection of festive goodies and treats to be enjoyed along or shared with friends and family!
The Presentation
This hamper is presented inside a beautiful traditional wicker, seagrass or reed hamper. Not only does this offer a wonderful first impression but once the contents of the hamper have been used then the hamper itself can be reused, perhaps as storage or re-gifted to a friend or family member.