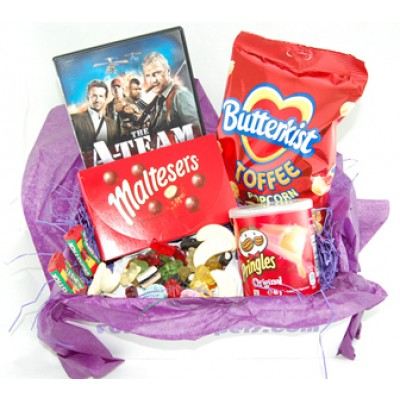 Compare Hamper Prices
The hamper and economy delivery prices stated above were supplied by each retailer within the last few days, and may have since changed. Some retailers may levy a premium charge on top of their standard delivery cost depending upon the size of the gift hamper. Certain postcodes may incur a further premium delivery charge too. For current hamper and delivery costs click the Buy button above.
About This Hamper
The ingredients of a great night in… what are they exactly? Well, there's got to be snacks. There's got to be drinks. And, really, honestly, definitely, there's got to be a film to enjoy.

But who wants to spend all their time gathering these things together? Surely the point of a night in is to chill and relax, to unwind and de-stress. No one wants to be rushing about searching for sustenance before it all begins.

Thankfully, the Movie Box hampers from Funky Hampers does away with all that hassle, and offers up everything you could need in one attractive package. It even includes the film!

All the best snacks are included. There is a tube of Pringles, a bag of popcorn, a box of Maltesers, and a fabulous selection of Pick'n'Mix! It's just like being at the cinema, but without the annoyance of other people. Except the ones you choose to have with you of course!

So you're ready to go. You just need a film. With over twenty to choose from, the Movie Box selections are amazing, and there is bound to be one that you fancy. The A-Team Movie? Or do you prefer Airwolf? If you like comedy, there's an Allo Allo box set, Blackaddder, Bottom, and a Mork and Mindy one. Prefer action? There's a Clint Eastwood box, and Magnum PI. For the girls is a Brad Pitt box set, and for the boys there's the ultimate lads' night in!

From rom com to comedy, action to 1970's brilliance, there is certainly something for everyone (including a Barbie selection for the kids!).

So sit back with your cinema snacks, pop in the DVD, and enjoy your night in!
The Type of Hamper
Pick and mix sweets have a certain air of nostalgia about them as many of us can remember traditional sweet shops (or even the legendary Woolworths stores). Relive the good ol' days with this hamper of tasty nostalgic confectionery.
The Perfect Occasion
Ideal for birthdays Celebrate a special birthday for a special person with a special hamper! These hampers are often filled with a selection of tasty treats and some even come with a birthday cake!
Ideal for Christmas Christmas hampers are arguably the most popular of all hamper categories and this hamper is no exception. It features a selection of festive goodies and treats to be enjoyed along or shared with friends and family!
Perfect for Father's Day Say thanks to Dad for everything he has done for you in his lifetime with this hamper designed with Dad in mind. Expect it to have plenty of treats that Dad will love on Father's Day.
Perfect for Mother's Day Say thanks to Mum for everything she has done for you in her lifetime with this hamper designed with Mum in mind. Expect it to have plenty of treats that Mum will love on Mother's Day.
The Presentation
This is the most economical option for hampers as the shipping carton doubles up as a hamper. Why pay for a presentation box or a wicker hamper when the shipping carton can do a good job at giving a first impression. Usually the contents are hidden in amongst shredded paper or foam packing peanuts to ensure a safe delivery.