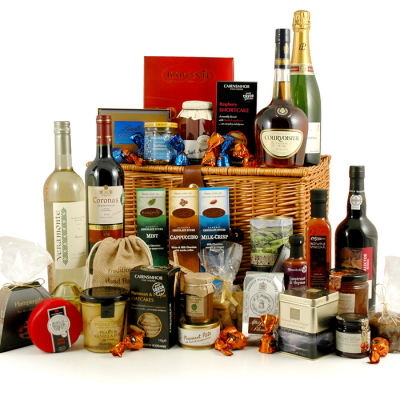 Royal Hamper
Highlights...
Compare Hamper Prices
The hamper and economy delivery prices stated above were supplied by each retailer within the last few days, and may have since changed. Some retailers may levy a premium charge on top of their standard delivery cost depending upon the size of the gift hamper. Certain postcodes may incur a further premium delivery charge too. For current hamper and delivery costs click the Buy button above.
About This Hamper
You don't have to be Royalty to buy this hamper but when you do buy it and see it, you will certainly feel it.

You will feel so spoilt that you may not want to give it away.  It is one of the most luxurious hampers you will find and the plentiful selection of drinks alone include Cognac, Champagne, Port and fine wines so need we say more?

It really does speak for itself, and no words from us could ever really give you an idea of how grand this hamper is.

Imagine giving this as a wedding gift, what a way to start off married life, a house full of fine food and drink selection that you could possibly find.   Perhaps you are planning a special family gathering, at any time of year, cancel the caterers, you have found yourself all you will need in one basket.  Whatever the occasion, be it for family, friends or corporate clients, it will certainly impress.

This is award winning in so many ways, not because we say so, it is crammed with award winning produce from around the world.

Sweet treats and savoury favourites, the Royal has it all and more and is fit for a King.
The Type of Hamper
This hamper is likely to feature a bottle or two of alcohol or may be based entirely around a type of liquor. These types of hamper are perfect for a wide range of people from those who like the occasional tipple through to those who know their hops or grapes.
When you think hampers you might think of a grand wicker hamper full of treats and tipples you wouldn't buy normally from day-to-day. This hamper offers that very experience, with a range of foods and treats perfect for a celebration.
The Perfect Occasion
Ideal for birthdays Celebrate a special birthday for a special person with a special hamper! These hampers are often filled with a selection of tasty treats and some even come with a birthday cake!
Ideal for Christmas Christmas hampers are arguably the most popular of all hamper categories and this hamper is no exception. It features a selection of festive goodies and treats to be enjoyed along or shared with friends and family!
The Presentation
This hamper is presented inside a beautiful traditional wicker, seagrass or reed hamper. Not only does this offer a wonderful first impression but once the contents of the hamper have been used then the hamper itself can be reused, perhaps as storage or re-gifted to a friend or family member.