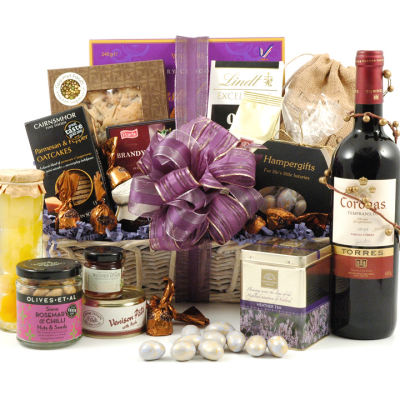 Yuletide Delight Hamper
Highlights...
Compare Hamper Prices
The hamper and economy delivery prices stated above were supplied by each retailer within the last few days, and may have since changed. Some retailers may levy a premium charge on top of their standard delivery cost depending upon the size of the gift hamper. Certain postcodes may incur a further premium delivery charge too. For current hamper and delivery costs click the Buy button above.
About This Hamper
Yuletide was the ancient medieval celebration of what we in the twenty first century call Christmas. The word itself was first heard all the way back in 1475, and was always used to describe a wonderful time of celebration and thanks giving.

Thinking of medieval Britain, images of succulent feasts and sweet wines appear. Visions of fattened geese or pheasants dance in our heads, amongst all kinds of mostly forgotten fruits, vegetables, and delicacies. It may not have been much of a time for bathing or table manners, but when it came to food and drink and enjoying life, those medieval ladies and gentleman knew what they were doing.

Hamper Gifts knows what it's doing as well. That's why the clever people there have come up with the Yuletide Delight hamper. Although dainty and delicately decorated, presented in a whitewashed wooden basket with a neatly tied bow around it, the essence of the feasting medieval period is still there at its heart. Where else could you find venison pate with pork, apricots in violet syrup, sloe gin jam, chocolate roasted nuts, Old English Chutney with Cider, and so much more?

And what is a feast without a toast? Well the Yuletide Delight hamper from Hamper Gifts also includes a bottle of award winning Spanish Torres Coronas Tempranillo Catalunya. Perfect!

So eat, drink, and be merry (at least until it's time to do the washing up)!
The Type of Hamper
This hamper is likely to feature a bottle or two of alcohol or may be based entirely around a type of liquor. These types of hamper are perfect for a wide range of people from those who like the occasional tipple through to those who know their hops or grapes.
Feel festive with this wintery feel hamper featuring a collection of hearty foods and perhaps some warming tipples. Ideal for Christmas or to celebrate an event in Autumn or Winter festive hampers are lavish and are an indulgent treat.
Perfect for those that know their foie gras from their caviar, these gourmet hampers are likely to tickle anyone's taste buds, but particularly those who consider themselves foodie connoisseurs.
The Perfect Occasion
Ideal for Christmas Christmas hampers are arguably the most popular of all hamper categories and this hamper is no exception. It features a selection of festive goodies and treats to be enjoyed along or shared with friends and family!
The Presentation
A wicker or reed basket is a perfect alternative to a wicker hamper and is usually used for smaller gifts where a hamper would offer too much space for the contents inside. The basket offers a traditional feel but without taking up too much space. It is also handy for reusing as a basis for a gift, as open top storage or as something like a container for potpourri.